I know this is necro post 5 years late. Maybe it'll help someone else looking for the info in the future.
That might be a Pentax 3-9x 43mm Light seeker. If it has the adjustment turrets forward of halfway, is rather heavy, and has the pinkish/purple tint coatings on the lens, then it is basically a Burris Signature of the time with the Pentax name. They were good scopes and on the expensive side for the times. I don't know what it would be worth today. I've had a couple of those and seem to remember a model number/sn on the tube with a 2 for the start of it.
Unfortunately Pentax later used the same name and sizing with scopes that had the lower quality glass and coatings as lesser Burris scopes.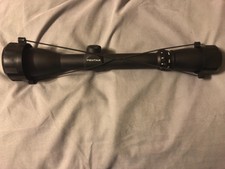 Here is a similar Burris Signature 3-9 x40mm from that time. Again notice the forward position of the turrets.