Have you ever extended your bi-pod attached to the forearm and attempted a steady aim at a very small target at distance? Or sat in a blind and rested the forearm on the window ledge and attempted the same? The front of the rifle is stable but the problem is that the butt is against your shoulder and subject to the wobbles.
This year I have been using a extendable monopod from Stoney Point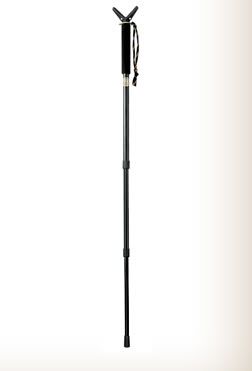 Compact Monopod
A solid shooting rest and hiking staff in
one - our sturdy, lightweight telescoping Monopods are indispensable for precise shooting, hiking and rough-terrain stalks.
Three-section Staff
Telescoping design
Posi-Lock system for fast, silent adjustment
Less than 2 lbs. - take them anywhere
Tempered aluminum construction is extremely tough
Anodized finish for corrosion resistance
Oversized, high-density cushioned hand grip
Extends from 16" to 38" (41-97cm)
10 oz. (284g)
Extend it to the right height so that the yoke will fit under the butt against your shoulder with the tip extended to the ground or floor of the blind at an angle. To adjust you point of aim use your left hand to move the tip away from you or towards you.
Steady as a rock and just like shooting off the bench! Otherwise small and light enough to carry or set in the corner of the blind.
I think Bob Allen makes one also.


Edited by sakomato - December/10/2008 at 20:18